Do you have a space where we can record the trailer?
I'm looking for a space in which to reco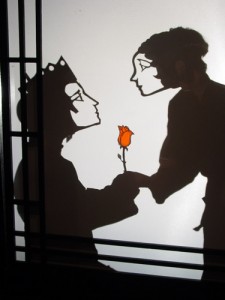 rd  the trailer for Shades of Milk and Honey. Ideally it would be 40 feet long, a minimum of12 feet wide, able to get completely dark, and available on May 20th.
Why those parameters? The trailer is using shadow puppetry to take advantage of the period's fascination with silhouettes.  Interestingly, at this point in England silhouettes were called "Shades." So you could say that the trailer will be Shades of Shades of Milk and Honey.
Or not.
In any case we'll be using the style of shadow puppetry called shadow masks pioneered by Larry Reed of Shadowlight Theater out of San Fransisco. And for that we need a space that we can get dark, that's got enough depth for the light, the screen and the camera. And, preferably, is inexpensive or free. We'd like to shoot on May 20th for four or five horus.
Do you have a space like that in or near Portland? Do you know someone who does? Let me know.