And the author photo is….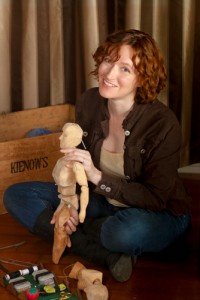 Thanks to the help of loads of people, and after much consideration we got the selection narrowed down to two author photos. I finally decided that I'll use both. How so?  Simple, in Shades of Milk and Honey itself, people already know that I'm a writer so I decided to use one of the puppetry photos as a way to help me stand out in a sea of other authors.
And the winner of the survey drawing is…  Harold Gross! I'll be sending him a signed copy of Shades of Milk and Honey the moment I have a finished book in my hands.
The other photo, which we'll use as the press photo when sending out packets to bookstores, newspapers and the like is one of the ones with typewriters.
This was actually marginally more popular than the puppetry one, and it does a great job of saying "I'm a writer! I write historic stuff!" It's just, I figured, if you have the novel in your hand that should be obvious.
By the way, the typewriter is an Oliver and no, I do not actually compose on typewriters. I use a computer because I can't go fast enough on a manual.
Since I decided to use two photos, I'm going to give away a second book.  I'm sending the second one to Patty Bigelow!
Thank you all for your help!
On, since I know people were curious, 221 folks participated plus some other people that I consulted on the side.  Here's how the results broke down. My favorite? Brown jacket looking up a camera…