A public service announcement: For the love of your pets, please get them a microchip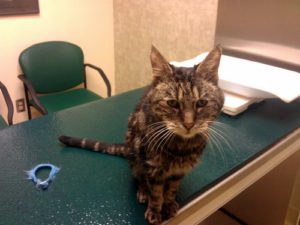 Yesterday, we found a terribly emaciated stray cat in our apartment complex. He was not microchipped and had no tags.
Let me pause here and BEG you to microchip your pet. This is the second stray we've found that had a collar but no tags. Even if the collar has tags, you can't rely on them staying on. It's better than nothing, but things happen.
This fellow is incredibly loving and 15+ years old. The vet says that he's probably got kidney disease and a hyperactive thyroid. I think I found the owner in the Multnomah County Lost Pets database so this is likely to have a happy ending. . Can you imagine being the owner? If the ad is for this kitty, then he's 17 years old and has been missing since mid-February. The owner is probably frantic. For the moment, the kitty is fed and in a warm place — quarantined from our cats, but warm
For the past month, he hasn't been.
The main point here, in fact, is to point out that this poor guy was lost, hungry, and frightened. He doesn't speak English or even Icelandic so can't tell anyone where home is. He's a geriatric guy who probably slipped out once.
Once is all it takes. Please, if you love your pets, please, please spend the money and get them a microchip.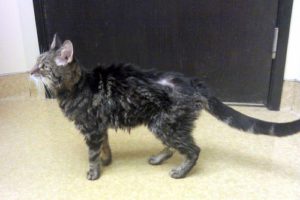 Edited to add: Bones has been returned to his owner. It turns out that the ad from 2/18 was an old one from the last time he got out. This time he was gone less than a day. When I spoke to the boyfriend, he offered to pay the vet bill.  They knew all about the problems with him since they adopted him from a shelter, so I called the vet and cancelled the testing, although we still have to pay for the visit itself. When I brought the bill and the cat over, I met the owner instead who said, "Are you asking me to pay a vet bill? He was gone less than a day."
I said, "Well…" and started to pick up our cat carrier.
And then she said, "Thank you" and shut the door on me.
Primary message remains. Please microchip your pet, particularly if it is a cat prone to escaping.
Further edited to add: One of our neighbors, who had also seen the cat, just came over to pay for half of the vet bill. Why? Because she is awesome.