In the interests of full disclosure, I love Kat Richardson's Greywalker series that when I heard she was working on a new one I begged to be one of her beta readers. I love the series, in part, because Kat never repeats a trick. Harper Blaine, her protagonist, is constantly growing as are the characters she interacts with. Kat also pulls off the near miracle of writing a series that you can jump into late and still enjoy. It helps if you've read the earlier books, of course, but she somehow manages to ground all the paranormal mystery.
So what's her favorite bit? Let's see…
KAT RICHARDSON:
Seawitch is the seventh in my Greywalker paranormal detective series featuring Seattle-base P.I. Harper Blaine. More than a quarter century ago, the Seawitch cruised away from her dock and disappeared with everyone on board. Now, the boat has mysteriously returned to her old berth in Seattle and the insurance company has hired Harper to find out what happened.
Harper is not the only one investigating, however. Seattle Police Detective Rey Solis is a good cop, albeit one who isn't comfortable with the creepy cases that always seem to end up in Harper's lap. But the search for these answers leads to a mysterious suicide and monstrous creatures with an ax to grind. To understand the disappearance of the Seawitch's passengers and crew, Harper and Solis will need to put aside their differences and solve a deadly mystery more than a hundred years in the making….
My favorite bit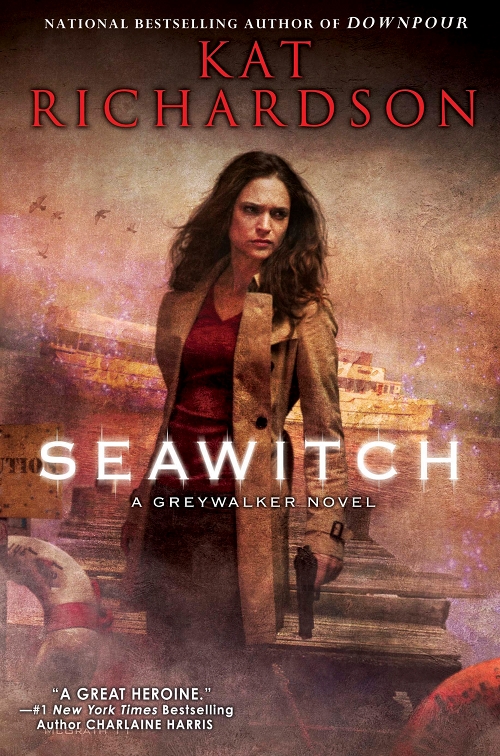 This book has a lot of bits I really enjoyed, like: Ghost ships! Phantoms! Shipwrecks! Sea monsters! Magical storms! Mermaids! Talking otters! Crazy grandmothers! Secret island lairs! But the best bit was something that came about because I was stuck. You see, the first thrid of the first draft was getting kind of boring—lots of walking and talking and not enough action. It's a problem with mystery novels: they can get a little too cerebral if you're not careful. So I was mooning around whingeing about what I should do to fix it when my husband said "Throw in a pirate!"
"A pirate?" says I. "But this is about a modern boat, how am I supposed to get a pirate onto a yacht in Seattle?"
"I don't know," says he. "You're the wordy-girl. You figure it out. 'Cause everyone likes pirates! Or ninjas! Or pirate-ninjas!"
And so I went back to my computer and the next character who appeared became a pirate. And here he is:
Solis knocked again and called out, "Mr. Zantree?"

"Are we supposed to say 'ahoy' or something?" I asked.

Solis started to reply but was cut off by a pirate coming around the edge of the cabin from the rear. The buccaneer was a dark, grizzled man with a broad chest showing a few gray hairs through the opening of his billowing cotton shirt. His hair was covered in a red bandana that sported a skull and crossbones on the front, but a few bits that stuck out were as gray as the rest and matched the scruffy whiskers on his jaw that weren't quite long enough to be called a beard and were too pronounced to be five o'clock shadow. Black trousers bloused into knee-length brown boots and a bright red sash tied around his waist completed the bizarre outfit. The man himself was just as odd, his brown skin and mixed-up features defying racial typing.

"Avast! What be the cause o' this bangin' and hallooin'?" the pirate demanded, squinting at us with a snarl.
I always wanted to be a pirate, myself, so it was way too much fun letting Paul Zantree run around waving a cutlass and saying things like "… there'll be fillet of freakfish all over the place!" "Damn and blast you all!" and "Arrr! They'll never take us alive."
Wheee! I think I may actually have had too much fun with my pirate….
Next time: Ninjas!
Kat Richardson is a bestselling novelist who lives aboard a classic yacht in the Seattle area. She shares her space with a husband, a pit bull, toy bats, paper clockwork mechanisms, and the ghosts of ferrets. Sometimes she dances, sings, makes bullet holes in paper targets, and rides a motorcycle—but not at the same time. You can learn more about her books at http://greywalker.com/ or visit her FaceBook page: http://www.facebook.com/Kat.Richardson.Writer