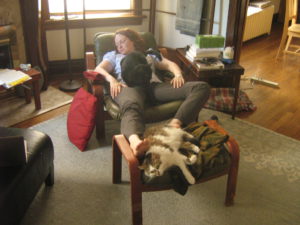 Rob took this photo.
a) I had no idea he was in the room.
b) I had no idea that both cats were on me.
I'm losing most of my saving throws against napping, and I'm fine with that. Smells are more vivid, which will be great when I'm cooking, but less exciting around the cats' litter box.
That chair, by the way, is what I'll be sleeping in for most of this week as I recover from surgery. I'm supposed to keep my head elevated. Pillows would do that but… the chair keeps me from accidentally rolling over during the night. When I'm just sitting around, there's no pain at all. I've gone out with Rob for walks around the block, and my footfalls send up a dull ache.
One of the fascinating things about the walks is that at a certain point, I'll have the urge to open my mouth, even though I can breathe adequately through my nose now. I guess that I had to do that for so long, that it's become an automatic response to a certain heartrate. It'll be interesting to see how much that changes when I acclimate to the restructured airway.
Laughing, smiling, and yawning are all no fun. I've also learned how often I wrinkle my nose in response to things.
Other than that, healing continues.